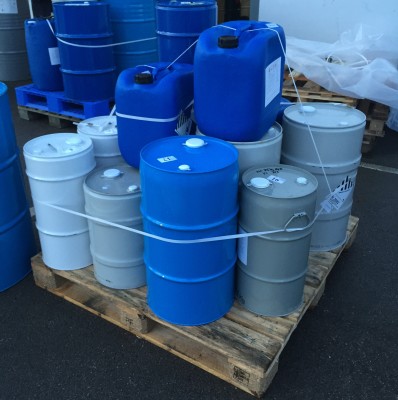 Bulk Buying Essential and Carrier Oils
The business was originally founded in 1987 and currently two thirds of our business in this sector is export, primarily to the Far East and North America.
We have many years trading experience in both importing and exporting and have built up a solid relationship with essential oil producers around the world. This has given us the necessary knowledge to select the best quality oils from reliable sources, whether the oil is supplied direct from the producer or from the most discerning of specialist importers.
Essential oils vary considerably from region to region and in differing climatic and political conditions. We source oils from over 40 countries around the globe and always search for the finest quality.
Purchasing volumes vary  from 1 litre to 1 tonne or more and may be broken down  into packaging that suits our customers. In short anything from 200 L drums down to 5 ml bottles.

Contract Filling
Many of our customers already have their own branding and packaging for their own  products.  We have a full production facility, which offers small quantity filling through to many thousands on semi-automated lines. This provides flexibility and quick product change over thus avoiding costly long change over times and high volume requirements for fully automated lines.
If the quantity required is relatively small it is more economical  to use our range of stock bottles. For larger orders we are happy to either use bottles supplied to us or alternatively we can source items on your behalf.  Prices vary dependent upon quantities and fill volumes. We will be happy to give you firm quotes or even ball park figures to give you an idea of the costs involved.
Personal Care & Toiletry Products
Private Label  or New Season's Branding
The recent changes in EU regulations affecting the manufacture of cosmetic products has made product development extremely difficult for new and  small companies.  We offer a full service that conforms to these requirements leaving you hassle free from complex rules and regulations, allowing you to concentrate on sales and marketing.
You are able to purchase and market our fully tested products thus by-passing costly testing for your own account. You have total flexibility on packaging and can choose either to purchase under our branding or as white label. If you wish to augment the range you offer with bespoke new products  we are able to develop products for you so that you offer your very own custom built range.
As these are predominantly existing products it gives you the opportunity to purchase low quantities of each product enabling you to test your market to see which products sell better,
Or in short you can develop your range with much reduced cash flow issues. This gives you ultimate flexibility in changing your range, which results in a major benefit to you over your competitors.
Product Development – Concept to Launch
We offer a full service from product concept, development and testing (including stability, microbiological and safety assessment) right through to package design and supply of the finished product range everything produced to your brief and specification
Alternatively, you are able to cherry pick any part of the product development services relevant to your needs giving  you, the customer, maximum flexibility.  As a company we respect confidentiality and will protect  your intellectual property.